Man Utd superstar blasted for disrespecting teammates, as Ten Hag told he's blundered major call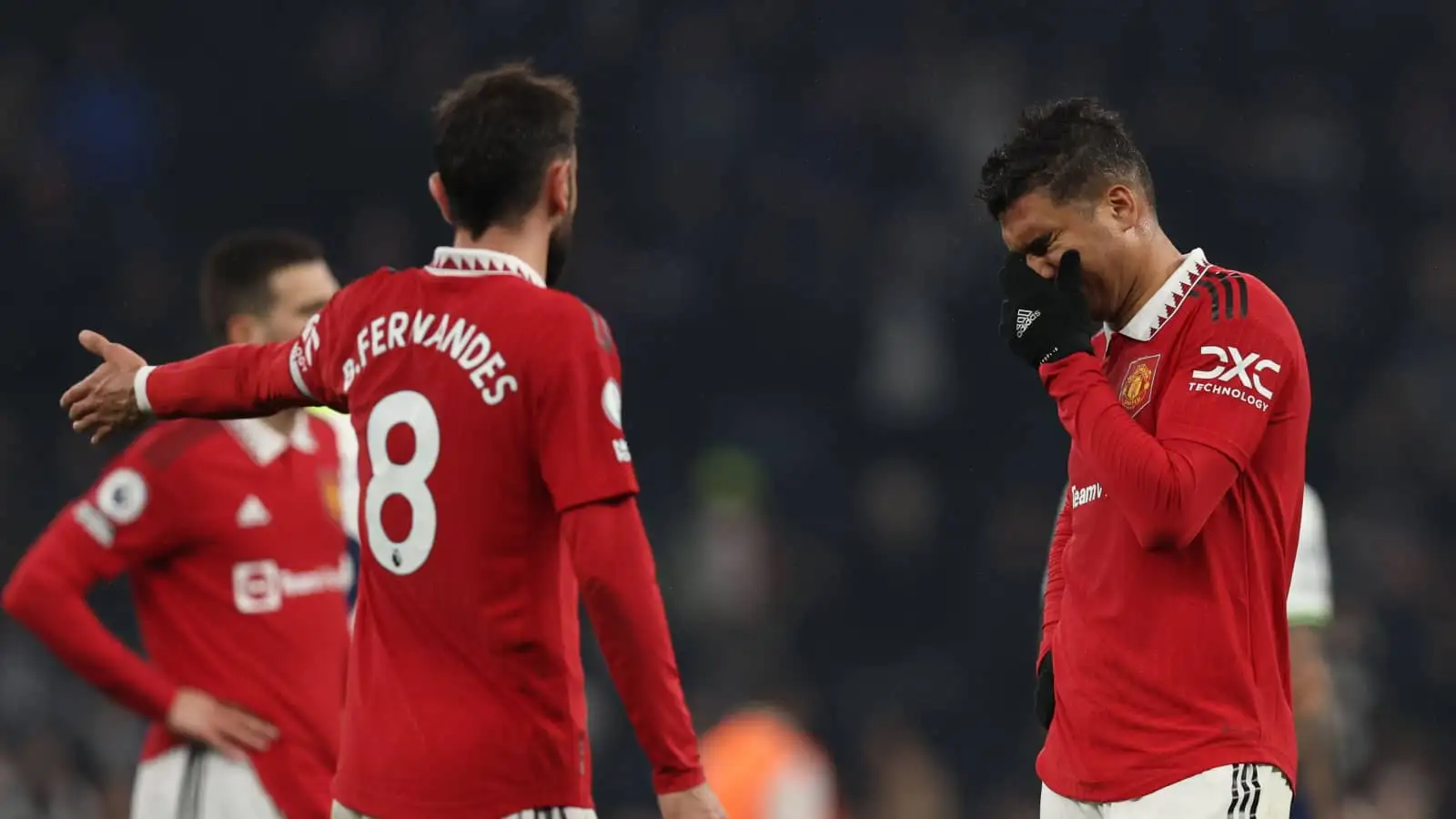 A second observer has questioned a key decision made by Manchester United boss Erik ten Hag, while Bruno Fernandes has been slammed for regularly disrespecting his teammates.
It's fair to say Ten Hag has got far more decision right than wrong since arriving at Old Trafford. However, according to Micah Richards and Graeme Souness, his call on the club's captaincy is proving suspect.
Ten Hag stripped Harry Maguire of the armband back on July 16 and quickly installed Bruno Fernandes as his new skipper.
Fernandes plays with his heart on his sleeve, though questions as to whether he's truly leadership material are being posed.
Richards was first to cast doubt on Ten Hag's call, recently branding Fernandes' histrionics as "pathetic".
"It's getting embarrassing now," Richards said on The Rest is Football podcast. "The young lad Pellistri comes on [against Tottenham], Fernandes is trying to get his team playing and I totally understand he's frustrated.
"Pellistri made a run, Fernandes didn't see him and [so] he made a different run but because he wasn't where [Fernandes] wanted him to be, he's going off at Pellistri.
"It's every time. I saw an interview with him the other day and he said he needs to be emotional when he performs because it makes him play better.
"But I feel like his body language on the pitch is disturbing the rest of the team and it's just not a good look at all. It's pathetic at times."
Fernandes "is just not captain material" – Souness
Now, writing in the Daily Mail's Match Day magazine, Liverpool legend Souness has not held back either.
Souness claimed he's "mystified" as to why Ten Hag would choose Fernandes to be his on-pitch leader. Furthermore, Souness took aim at the apparent disrespect Fernandes shows his teammates when things aren't going his way.
"I'm mystified by the decision to make Bruno Fernandes captain," wrote Souness. "I saw him at Anfield last year and he totally gave up at the home of their biggest rivals when it became clear United would get nothing from the game.
"He's a talented boy, but there are big question marks that come with him.
"He shows disrespect to his teammates on a regular basis by shrugging his shoulders and pulling faces, holding his palms outwards to the sky when they fail to pick him out with a pass. He is just not captain material."
Ten Hag did not lack for viable alternatives to Fernandes when deciding who should don the armband.
Raphael Varane and Casemiro are experienced operators who have performed at the highest level for club and country for over a decade.
Marcus Rashford too would've been a popular choice, though the honour was bestowed upon Fernandes instead.
In any case, the Portuguese fired back at his critics in the best way possible on Saturday afternoon.
Fernandes played a pivotal role in helping United overcome an early two-goal deficit to Nottingham Forest when assisting Casemiro and scoring from the spot to help secure a 3-2 victory.
READ MORE: Klopp fuming as Man Utd named as Liverpool target's 'priority' amid £25m transfer battle