Arsenal braced for three bids as plans to offload defender ramp up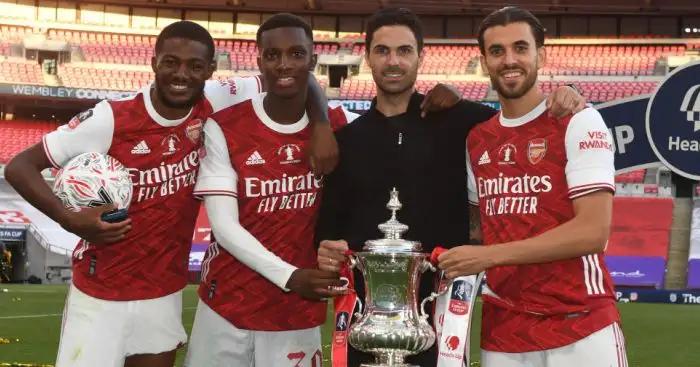 Three clubs are keen on helping Arsenal raise vital funds by signing defender Ainsley Maitland-Niles, according to a report.
Sky Sports has not named the clubs, but insists two Premier League sides want to sign the 22-year-old. The third club comes from the Bundesliga.
Previous reports claimed Arsenal had overruled boss Mikel Arteta by placing Maitland-Niles on the transfer list. Further speculation then claimed Tottenham are keen.
Indeed, that latest report from The Sun said Crystal Palace, West Ham and Fulham could also join the race.
In any case, the three as yet unnamed clubs in Sky's report are reportedly preparing bids for Maitland-Niles.
The Englishman is one of several players Arsenal could look to offload before next season begins. Arteta admitted concern last month that his superiors would not back him in the transfer market.
And despite later insisting he had such support, the club then announced plans to cut 55 jobs. As such, it is likely the club will have to sanction exits before they can spend.
Maitland-Niles made 32 appearances this season, making his 100th Arsenal outing in the FA Cup final victory.
Arteta also said last month (via Sky Sports) that he had "didn't know" about reports linking the midfielder with an exit.
He said: "I don't read them so I don't know about them.

"I speak to the players about how they are feeling and how we can help them. If they are having difficulties again I speak to them and make it easier for them.
"He's a player who can play in many different positions, we have discussed the things in my opinion that he can improve or adapt to his game because he has incredible quality.
"He has every quality that you need to be a football player to play the highest level and he just needs to do it in a little bit more of a consistent way, but he is someone who can adapt to any position as well."
ARSENAL RECEIVE GUENDOUZI OFFER?

Another player Arsenal are looking to sell is controversial midfielder Matteo Guendouzi.
The Frenchman has not featured since he grabbed Brighton striker Neal Maupay's throat in June.
Now, reports claim the Gunners have received their first official offer for the player.