Jamie Carragher names six Liverpool stars he considers world class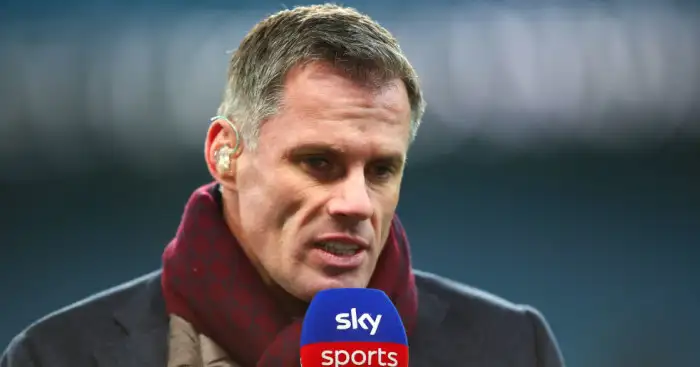 Jamie Carragher believes Liverpool can count on six world-class players in their armoury after watching them stage a fightback to beat West Ham 3-2 at Anfield.
Pablo Fornals' goal had threatened, albeit briefly, to take the points for the Hammers when he put them 2-1 up, before goals from Mohamed Salah and Sadio Mane ensured yet another victory in a landmark season as the Reds matched their own top-flight record of 21 successive home wins, set between January and December 1972, while an 18th consecutive victory drew them level with Manchester City's Premier League landmark set in 2017.
They are closing on on a long-awaited domestic championship having dropped just two points this season and even Jurgen Klopp, usually reluctant to celebrate milestones, has been impressed.
Carragher was also quick to pile the plaudits on Liverpool after the match and believes Klopp has a multi-faceted team at his disposal and can call upon six players he deems fit into the 'world-class' bracket.
"I think Liverpool have got six world-class players," Carragher told Monday Night Football. "I think they've got the goalkeeper [Alisson], Trent Alexander-Arnold, Virgil van Dijk, Sadio Mane, Roberto Firmino and Mohamed Salah."
Carragher, meanwhile, reckons Reds forward Salah is somewhat underappreciated by the Liverpool faithful and believes they would consider his sale if a huge offer arrived at their door.
"I think if you asked Liverpool fans if they'd take somebody new for any of the five, taking Salah out, they'd all say no, no matter what.
"But I think if someone offered £130m for Salah they'd say, 'oh I'll think about it', because I think he's under-appreciated.
"There is no way they would sell Alisson or Van Dijk. But if you offered them £130m for Salah, they would think about it.
"That is why I say he is underappreciated."
Carragher on underappreciated Salah
Carragher has also identified two reasons why Salah's reputation among Liverpool supporters might not be as high as his goal record deserves it to be.
"He is a wide forward who plays narrow which means he is constantly marked when he receives the ball," added Carragher. "He almost marks himself in a way.
"But he is not as strong as Mane and he is not as clever as Firmino when the ball comes in to him. So he does lose the ball a lot in situations like that. It can be frustrating watching Salah.
"There is also no doubt that there is a selfish side to him. We saw that come out with Mane earlier in the season. When Salah is in position all he is thinking is whether he can score.
"At times, that's a frustration."