Dzeko sends bullish Man Utd message as 'favourites' tag banished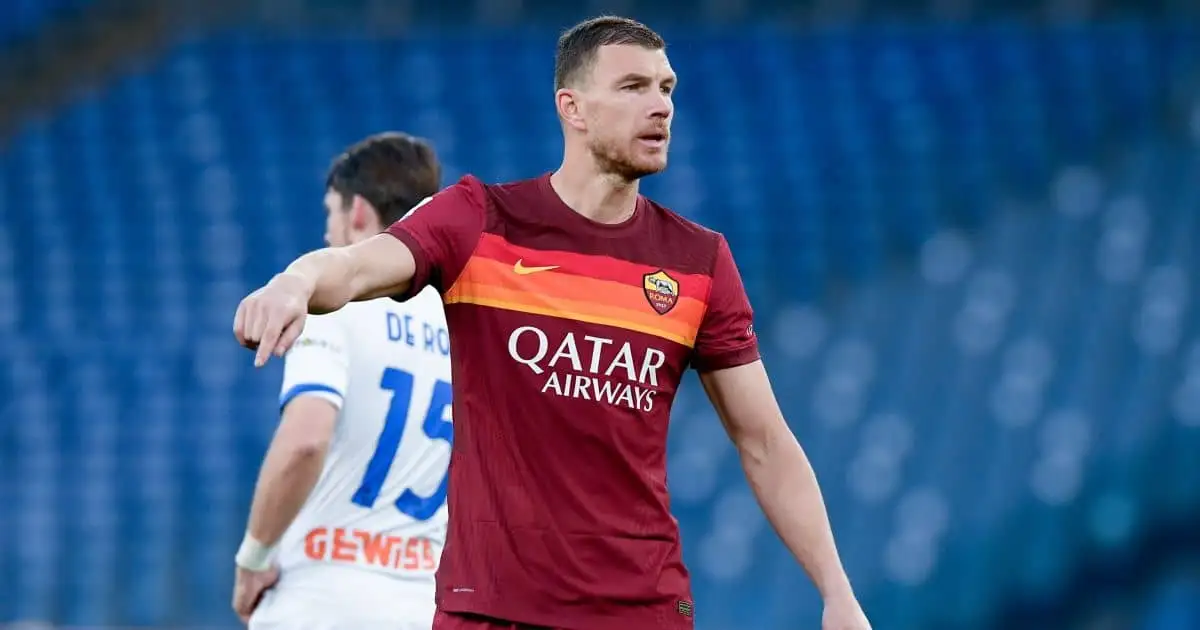 Roma striker Edin Dzeko insists that his team have nothing to fear against Manchester United, who remain the favourites to win their Europa League tie.
The two sides meet in the semi-finals, with the Red Devils looking to go one better than last season. Ole Gunnar Solskjaer's men reached the last four last term, but lost in the one-legged affair to Sevilla. As such, they have the experience of losing and fresh motivation to end the campaign with silverware.
Roma, meanwhile, have a similarly poor record of progress deep into European competitions.
Their Champions League semi-final appearance in 2017/18 against Liverpool is the only occasion they have reached that stage in their recent history.
What's more, this season is the first time they have reached the Europa League semi-finals.
United are therefore favourites to reach the final, but Dzeko believes that "anything is possible" in a last-four tie.
"You don't get to play semi-finals every day," he told UEFA when previewing Thursday's first leg at Old Trafford.
"We know their strength, and Manchester United are certainly favourites, but the very fact that we've got to the semi-finals gives us the right to believe.
"We know that we have quality, too, and first of all, as a team, we have to act as one. Then, anything is possible."
Ole Gunnar Solskjaer: We want to finish season with a trophy
Manchester United are safely through to play Roma in the Europa League semi finals - and manager Ole Gunnar Solskjaer is keen to lift the trophy, believing it could be a catalyst for further success.
United and Roma have met twice in the Champions League quarter-finals, the Red Devils winning both ties.
Sir Alex Ferguson's team lost 2-1 in the 2006/07 first leg, before demolishing the Italian side 7-1 at Old Trafford.
The following season, United made their progression easier with 2-0 and 1-0 scorelines in the respective legs.
Dzeko insists no Europa League favourites

Bosnian striker Dzeko added: "When you're playing in the semi-finals, [lifting the trophy] is certainly the ultimate aim. Maybe, at the beginning of the Europa League you don't think so long term, but when you're so close it's certainly the aim.
Ahead of us, we have one of the strongest opponents of the last 20 years in European football, and it won't be easy at all.
"We're aware of that but we don't have to be scared. Anything is possible."
The clash with United is also a personal one for Dzeko, who left Manchester City in 2015.
On rekindling the competition with his former club's arch rivals, he said: "Since I left Manchester City six years ago, I've never been back.
---
Subscribe for free to TEAMtalk's daily newsletter…
---
"It will be a special game for me, since it was a derby for me until a few years ago. European games, especially against those kinds of opponents, are something special.
"I expect the game against Manchester United will be special for all of us, and I hope that it turns out well for us."
READ MORE: Pundit predicts fierce Man Utd, Man City battle after Kane, Haaland opt for Manchester