Ex-Man City, Liverpool players blast Man Utd first-half Anfield display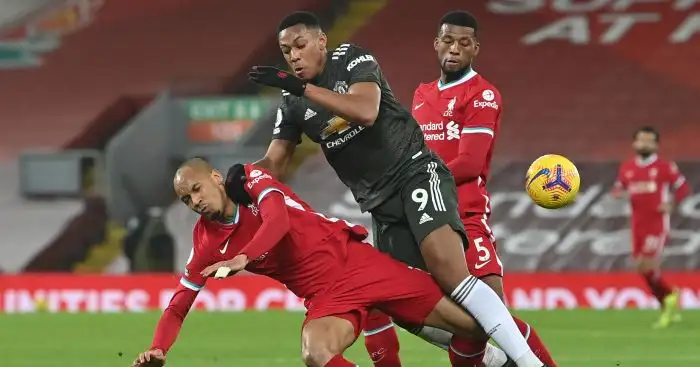 Sky Sports pundits Micah Richards and Graeme Souness have criticised Manchester United's first half performance against Liverpool.
The Red Devils went into the break tied at 0-0 with the reigning champions on Sunday evening.
Despite keeping a clean sheet, former Manchester City defender Richards said the visitors should have done more.
"Manchester United are just dropping so deep," he said, speaking on Sky Sports.
"They're top of the league, take the game to Liverpool!
"You can't win the league playing like that. Yeah, they're good on the counter attack, but they're offside seven times in that half!
"You can't win the league playing as negatively as that."
United had just 37 per cent possession in the first half. They also managed just one shot on the Liverpool goal.
Former Liverpool midfielder and colleague Graeme Souness added that he thought United were merely holding on.
He commented: "Liverpool have done everything right until the last third, the most important bit. They're getting to the last third time and time again.
"I think Liverpool have been very good. For Man Utd, it's hanging-on football."
---
Subscribe for free to TEAMtalk's daily newsletter…
---
Keane defends former club

Fellow Sky Sports pundit Roy Keane came the defence of his former club.
He mooted that Ole Gunnar Solskjaer's men are not doing as poorly as Richards suggested.
"I think United have been dangerous," he said.
"They just need to get one of those passes right. I think United will be delighted to go in at half-time at 0-0. Do they want to pass and create more? Of course.
"But they just need to get one of those passes right and they're through."
United did not have an attempt until the 34th-minute when Bruno Fernandes' free kick went just wide of the mark.
Otherwise, Liverpool had dominated the game and created the better chances.
Manchester United have not beaten Liverpool at Anfield since 2016. Wayne Rooney, who became the permanent Derby County manager, got the winner in a 1-0 victory that day.