Marcos Rojo left in the dark, as report claims Man Utd in transfer cover up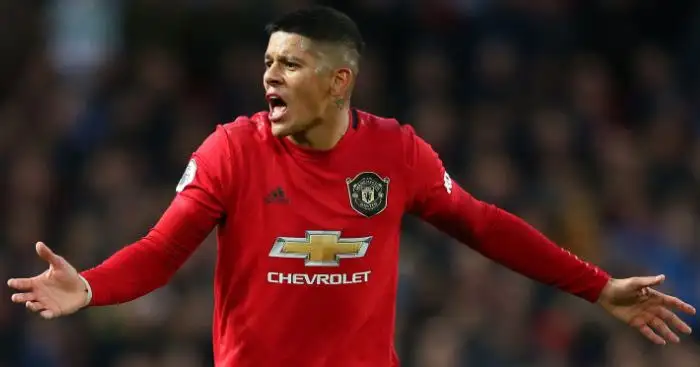 Marcos Rojo slipped out of the back door at Old Trafford this week, but the transfer, reportedly, may not have been quite what Manchester United described.
United said in a statement this week that Rojo had joined Boca Juniors for an "undisclosed fee" after six-and-a-half years at United.
However, ESPN report that that the defender's "contract was ended by mutual consent before signing for Boca as a free agent".
The outlet also suggest that the 30-year-old did not know the thoughts of the club on his future before Ole Gunnar Solskjaer mentioned it at a press conference last month.
Rojo was still waiting to hear whether the club would take up their option to extend his deal by another 12 months when Solskjaer was asked about the Argentine on January 29.
After being asked about Jesse Lingard, Solskjaer also gave an update on Rojo and Sergio Romero.
Solskjaer said: "Likely that Jesse loan deal is going through, likely that Marcos goes back to Argentina – a little bit of paperwork left to be done. Sergio, not heard anything from there."
As per the source though, Rojo had no idea that was the decision from the club. He found out about Solskjaer's comments and therefore his own future on social media.
Rojo was signed by Louis van Gaal for £16m in 2014 and made 122 appearances for the club.
The centre-back lifted the FA Cup, the Europa League and two Community Shields, but his contract was due to expire in the summer.
Man Utd v Everton Match Preview, February 06, 2021
A look ahead to the Premier League game between Man Utd and Everton, including stats on form, possession, shots, cards, corners, top scorers and previous meetings.
United wished the player well for the future, but it seems his departure was not quite what United advertised.
Maguire well aware of haters
Meanwhile, Harry Maguire says winning the Premier League with Manchester United will be a sweet experience knowing the number of people willing them to fail.
United have positioned themselves in the hunt for the title for the first time since their won the league in 2013.
It's been a painful road since Sir Alex Ferguson retired and United's detractors have been noisy.
Maguire is well aware that United are either loved or hated across the country following the glory years under Fergie and believes proving the haters wrong will make a title win even sweeter.
Speaking on the Utd Podcast, he was asked by ex-United defender David May if he enjoys the hatred: "I enjoy it. I don't mind it at all.
"When I lift my first trophy at this club it will put a bigger smile on my face knowing there's a lot of people not wanting us to do that.
"We are the most talked about club in the world. A lot of people don't want us to do well.
"A lot of people want us to fail and that's the world that we live in. I'm pretty used to it now."