TEAMtalk takes a look at who Wayne Rooney's goals came against after he overtook Sir Bobby Charlton to become England's record goalscorer.
Rooney netted his history-making 50th goal in Tuesday night's Euro 2016 qualifier with Switzerland at Wembley.
Rooney equalled Charlton's record, which has stood for 45 years, with a penalty in Saturday's 6-0 win at San Marino in Group E before he was substituted.
His withdrawal gave him the opportunity to notch his half century at Wembley, and he duly obliged six minutes from time.
Here, we take a look at who the magical 50 goals came against.
5 – San Marino
4 – Croatia, Switzerland
3 – Kazakhstan
2 – Andorra, Belarus, Brazil, Bulgaria, Denmark, Estonia, Iceland, Montenegro, Poland, Scotland, Slovakia, Slovenia.
1 – Argentina, Ecuador, Holland, Liechenstein, Lithuania, Macedonia, Norway, Russia, Ukraine, Uruguay.
Now you've seen the breakdown of Rooney's 50 goals, what do you think of them? Our immediate thoughts are that many of the goals have come against the so-called 'lesser nations'. But are we doing him a disservice? Where does he rank among England's all-time goalscorers?
The above graphic shows how Rooney's goals have been scored.
However, let's put that into a little bit more context…
How does his tally compare to other international top scorers?
Former Iran striker Ali Daei tops the charts with 109 in 149 games, and the most prolific present day striker is Germany's Miroslav Klose, who retired from international football last year with 71 goals in 137 appearances.
Here's how Rooney's tally of 50 from 107 games matches up to the leading scorers from other World Cup-winning nations.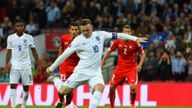 Pele (Brazil) 77 goals, 92 games
Miroslav Klose (Germany) 71 goals, 137 games
Gabriel Batistuta (Argentina) 56 goals, 78 games
David Villa (Spain) 59 goals, 97 games
Thierry Henry (France) 51 goals, 123 games
Luis Suarez (Uruguay) 43 goals, 82 games
Luigi Riva (Italy) 35 goals, 42 games
Rooney continues to split opinion in the debate over England's greatest ever goalscorers. But now that he has moved ahead of Charlton, it could be a long, long time until the record is broken again.