Solskjaer addresses Young, Inter talk; seven-word statement on transfers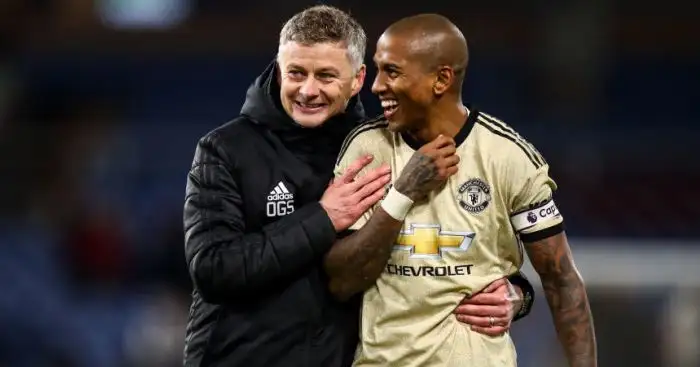 Ashley Young's professionalism will not change despite the ongoing speculation linking him with a move to Inter Milan, according to Manchester United manager Ole Gunnar Solskjaer.
Red Devils captain Young has been at United since a move from Aston Villa in 2011 but has seen his game time decrease this season and has played 18 times in all competitions.
As such, the Englishman's future has been the subject of various reports in the past few days, with the player initially said to have stated a desire to leave.
In response, United are said to have offered Young a one-year extension to his contract but the latest report indicates that the 34-year-old has rejected that proposition.
Speaking in a press conference on Friday, Solskjaer would not directly dive into the speculation but insisted that he will speak to Young if the need arose.
"He's one of our players, our captain, there's loads of speculation, we've just got to handle it," the manager said.
"Ashley's been very professional and focused so I don't think that's going to change."
Asked again about whether Inter are interested in the full-back, Solskjaer said: "Well, that's a discussion me and Ash will have if it comes up, we haven't got too many players fit and ready so we need the ones we have.
"Ashley's been very, very good for this club, been a very good captain this season, so let's see where we are in June and February as well."
Solskjaer was also asked for a general overview of what to expect from United in the transfer window, especially on whether the club would be bringing in new additions.
The Norwegian said: "I can't say yes or no, but I wouldn't expect many ins and outs.
"We've still got the same thoughts we had a month ago, got the players we have, working with the ones we have and if something happens we'll tell you."
Elsewhere, defender Harry Maguire could be fit for Saturday's Premier League clash against Norwich, but the likes of Paul Pogba and Scott McTominay remain sidelined.
Initial reports hinted at concern for United by suggesting that the England international had torn his hip in last weekend's FA Cup draw with Wolves.
However, Solskjaer revealed the true extent of the injury, saying: "He's got a chance for tomorrow. It was a minor thing. I don't know where the reports are coming from, they might've mistaken it for Harry Kane.
"We'll see how he comes through training. It's not a surprise. He is a warrior and wants to play. That's what he did at Wolves. At half-time he was feeling discomfort, he was close to playing against City but just not fit enough."