In truth, this season's Goal of the Season category had one outstanding contender and ever since Charlie Adam's sensational strike at the Bridge in April everyone else was chasing the second spot.
There were numerous contenders for the top five and with Phil Jagielka's last-gasp rocket at Anfield and Jermain Defoe's volley against Newcastle failing to make the cut, it's testament to yet another season filled with world-class goals.
5. Matt Phillips (QPR) v Crystal Palace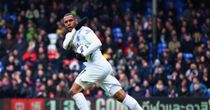 It wouldn't be right to start the top five goals without an old fashioned long-range pile driver.
And Phillips' strike at Palace in March was everything you want in a goal from distance. There was no intricate build-up play or quick foot-work, that's overrated, it was a goal all about instinct, accuracy and power.
Phillips picked up an aimless Palace ball forward and strode forward – 10 yards inside the halfway line – and then thumped a right-footed shot that flew over Julian Speroni into the top corner.
Some of the fasted shots in football have been measured at around the 100mph mark and this cannot have been far short as the Palace keeper was only a couple of yards off his line but barely had time to react.
It was, as they say, "a strike to light up any game". It was just a shame it was a mere consolation en-route to a 3-1 away defeat, which proved to be another nail in Rangers' Premier League coffin.
4. Juan Mata (Man Utd) v Liverpool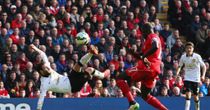 This goal at Anfield was class personified.
Mata had already rifled United ahead against their deadly rivals in what was probably United's best performance of the season, before he doubled his tally with a brilliant bicycle kick at the Anfield Road end.
Di Maria drifted out of the box and dinked a ball into the right side of the box. Mata was lurking, but with the ball behind him he had work to do. That wasn't a problem as he took the air to acrobatically volley the ball into the far corner.
The angle was tight, Liverpool stopper Simon Mignolet was not at fault, but one bounce and the ball found the bottom corner.
It was a goal down to technique and one that not too many players would be able to replicate.
3. Philippe Coutinho (Liverpool) v Southampton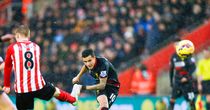 They always look better when they go in off the bar.
And this David Beckham-esque Coutinho blockbuster rattled the Saints woodwork before bouncing into the goal to silence an expectant St Mary's.
It was a brilliant strike from range, one with little back lift and a technique which resembled England great Beckham, against a Southampton side who only conceded 13 home goals all season.
Coutinho was 30 yards from goal when he picked up possession before firing a right-foot exocet missile, which clattered the bar and bounced up and down in the back of the net.
A full on knee slide to celebrate and it was clear to see the Brazilian thought it was a bit special too.
2. Angel Di Maria (Man Utd) v Leicester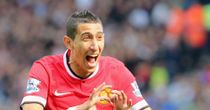 There are 'chips' and 'dinks' – this was neither, but still one of the most extraordinary goals the Premier League has ever seen.
It was most definitely a 'scoop' of a finish after Wayne Rooney's pass, which left Kasper Schmeichel with his hands on his hips and looking for divine inspiration.
Any microphone close to Schmeichel I'm sure would have picked up a volley of expletives, but in truth he would not have stopped it even stood on his more illustrious father's shoulders such was the trajectory Di Maria managed to purchase.
It was a sumptuous finish from the Argentinian and one which some people voted as the season's best.
From his first touch with the outside of his left foot to the 'scoop' which left Schmeichel , who was only four yards from his line, red faced – this was a quite brilliant goal. And even though in came in early October it was probably about the last thing Di Maria contributed during the season.
1. Charlie Adam (Stoke) v Chelsea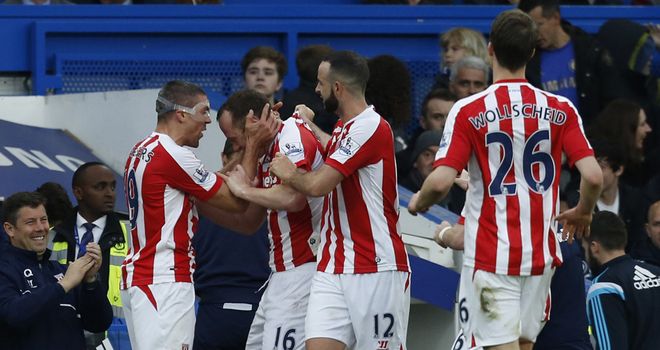 This goal sits in very good company, but it's probably better than the lot when you consider the stature of the goalkeeper left on the seat of his pants.
David Beckham, Xabi Alonso and Wayne Rooney have all scored from ridiculously long range and now Charlie Adam – and from a staggering 66 yards too.
"I had a look during the whole game and normally do," said Adam
"I always have a look because with these balls they move so much and when you have that much space and time it's nice to do something like that."
And move it did as his left-footed strike sailed over Thibaut Courtois – the best goalkeeper in the Premier League – and into the net after some subtle out to in movement.
Chelsea's Courtois got a hand on it but could only help it into the net, much to the disgust of Adam afterwards, who demonstrated almost cue-ball like control with his magic left boot.
It is a strike that has been described as the one of the greatest ever seen in the Premier League and one that will feature in highlights packages for years to come.
Jonathan Walters chalked up an assist from it too!