Whether it's managers behaving badly, or tearful farewells of Premier League legends, the 2014/15 campaign has been another that lives long in the memory.
OK, so we might not have had the title tussle we've seen in recent times, but there's enough drama going on off the field, and on the touchline to keep our interest peaked and the keyboard warriors out in full force.
So, without further ado, here are your top five Moments of the Season, as chosen by you, our readers:
5. OstrichGate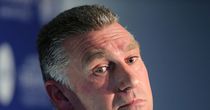 Leicester boss Nigel Pearson has had a rollercoaster season, guiding the Foxes to Premier League safety with a remarkable end-of-season surge. But Pearson was involved in a number of controversies during the campaign. In December, during Leicester's 3-1 defeat to Liverpool, Pearson appeared to tell a City fan to "f*** off and die" during a row with the supporter. Pearson refused to apologise afterwards and insisted he was protecting his players.
Then in February, during Leicester's 1-0 home defeat to Crystal Palace, Pearson put his hands around the neck of Palace's James McArthur after the midfielder knocked over Pearson on the touchline. And the Leicester chief then called a journalist a "pr***" at the end of his press conference following Leicester's 0-0 draw with Hull in March.
But the most bizarre incident came during Pearson's post-match press conference following Leicester's 3-1 defeat to Chelsea. Journalist Ian Baker had asked Pearson what criticism of his players had annoyed him. The manager proceeded to call Baker an "ostrich" and "stupid", adding: "Are you flexible enough to get your head in the sand?" Pearson subsequently apologised to Baker but his rant caused a storm and even created its own hashtag – #OstrichGate.
4. Long goodbye for Gerrard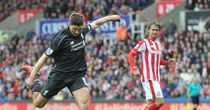 Liverpool captain Steven Gerrard revealed on New Year's Day 2015 that he would be leaving Anfield at the end of the season and a week later LA Galaxy announced the signing of Gerrard on an 18-month deal.
While Gerrard, 35, is no longer the box-to-box midfielder of his pomp, the Reds will find it incredibly difficult to replace his goals, leadership and presence both on and off the pitch. Don't let anyone tell you any different.
Gerrard's departure became a big talking point as the season drew to a close, and in some senses that was not a surprise given the Reds' end-of-season-slump after a 2-1 defeat to Manchester United at Anfield on March 22. Of the next 10 matches, Liverpool would win just three, draw two and lose five.
But surely Liverpool's talisman deserved a better send off than a 3-1 defeat to Crystal Palace in his last match at Anfield and then a 6-1 thrashing at Stoke City in his final appearance for the club.
Yet even during that final day humbling, Gerrard was the only Liverpool player to hit the back of the net.
Farewell Steven, a leader from day one to the end.
3. Super Frank's class act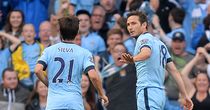 When Frank Lampard left Stamford Bridge last summer for MLS side New York City FC, no one expected the midfielder to be back in the Premier League at the start of the season.
But Lampard joined Manchester City in early August 2014 – initially until the end of January 2015 – and would eventually spend the whole of the season at the Etihad, making 32 appearances in the PL and scoring six goals.
Lampard skippered Man City in their final Premier League match of the season and typically opened the scoring in a 2-0 victory over Southampton.
But it was Lampard's reaction to scoring against his former club Chelsea last September that showed the midfielder's true class.
Lampard came on as a substitute to score the equaliser for City in their 1-1 draw against Jose Mourinho's men but he refused to celebrate against the Blues.
Although a common gesture in today's game, you could just tell Lampard was struggling to keep his emotions in check. It was a class act from Lampard, Chelsea's all-time top goalscorer, who did not get a proper chance to say goodbye to the Chelsea fans after his release by the club last summer.
2. Xavi leads Barcelona to the treble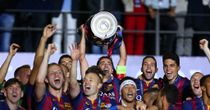 Like Gerrard and Lampard, Xavi is a midfield legend who is now departing for pastures new. Xavi will ply his trade in the Middle East for the next two years at Qatari club Al-Sadd.
But in his final season at the Camp Nou, Xavi went out in style, winning La Liga, the Copa del Rey and, in his final match, the Champions League.
Xavi came on in the 78th minute of the final against Juventus and it was fitting that he was given the honour of lifting the trophy.
In total, Xavi has won eight La Liga and four Champions League titles, plus a World Cup and two European Championships. You can't do much better than that!
But he is also the embodiment of Barca's tiki-taka style of play and he will be sorely missed both in Catalonia and on the European stage.
1. Sepp Blatter's resignation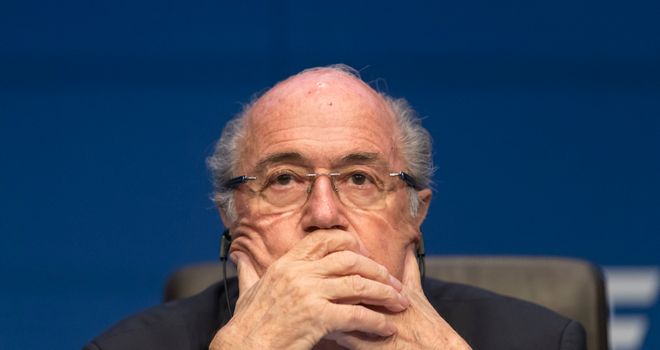 Seven current FIFA officials – including vice-president Jeffrey Webb – were arrested at 6am at the hotel Baur au Lac in Zurich on May 27. And so began the biggest crisis in the history of FIFA.
The seven arrested are expected to be extradited to the US on suspicion of receiving US$150million in bribes.
Unbelievably, despite the events, two days later president Sepp Blatter was re-elected for a fifth term of office, beating Prince Ali bin Hussein.
But just days later, Blatter finally bit the bullet and resigned. Although he will remain in place until his successor is elected at an extraordinary congress, his reign as the Dark Lord of football is (finally) coming to an end.
Whether it's been inappropriate remarks or opinions that are just simply out of touch, Blatter's exit will be celebrated round most of the world. And don't get us started on his consistent harsh treatment of English clubs in general, or the FA – and their bid to stage major tournaments – as a whole.
Football fans around the world deserve better and hopefully the investigations by the FBI and Swiss authorities will clean up the dirty side of the beautiful game. Heaven knows, it's clearly needed.