Liverpool's 1-1 draw at champions Chelsea all but ended their chances of qualification for next season's Champions League and Thompson believes failure to qualify will prompt Sterling to leave.
And he insists he doesn't see the 20-year-old's future as a striker no matter where he ends up.
He told Sky Sports: "I think it will be very difficult for him to stay at Liverpool now. He's shown all the signs that he's ready and prepared to leave the club.
"But if he was to stay I would like to think his role will be on the flanks – I don't think Liverpool can even contemplate him being their main striker next season, because he's not a natural goalscorer.
"Liverpool need somebody who's going to get you at least 15 league goals and maybe 25 overall – Raheem Sterling is not going to get you that.
"He's done well for the team – he's helped them out up front this season, but I think everyone can see that he's not quite strong enough for it.
"So, no matter where he is next season, I think his best role is out wide rather than through the middle."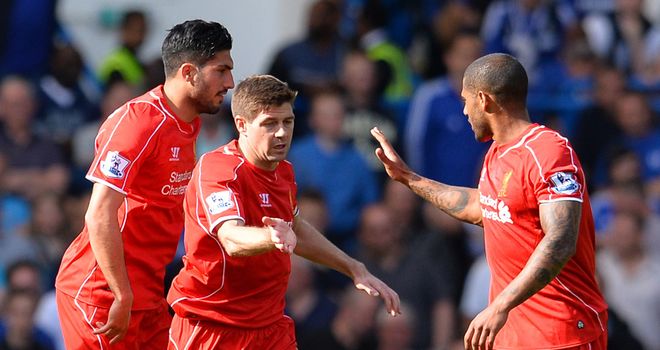 Meanwhile, Thompson believes the difference in squad depth between Liverpool and champions Chelsea was clearly evident during Sunday's draw at Stamford Bridge.
The Reds needed to win in order to cling on to their hopes of finishing in the top four in the Premier League, but they could only manage a point.
Although Liverpool were competitive throughout the game, the gap between the pair remains 22 points, and Thommo highlighted Rodgers' substitutions when trying to win the game.
He said: "Liverpool had Jerome Sinclair coming off the bench and also Jordon Ibe – who I think can be just as good as Raheem Sterling in that wide role – but it still showed the gulf in quality between the squads.
"Both of those lads are under 20, yet Chelsea had Gary Cahill, Nemanja Matic and Juan Cuadrado coming on for them – three established internationals.
"I think part of the substitutions was maybe Brendan saying 'look, this is all I've got to work with here', although it is nice to have youngsters coming through the ranks at the club again.
"But, at the end of the day, it's two young lads coming off the bench at Stamford Bridge, the home of the champions, and it was never going to be enough to beat them.
"The experience that Chelsea had on their bench compared to ours highlights the big difference between the two squads."