Transfer Gossip: Liverpool become prime suitors to sign 'next Enzo Fernandez' as Fabinho successor falls into Klopp hands; Arsenal ace wanted by 10 Prem clubs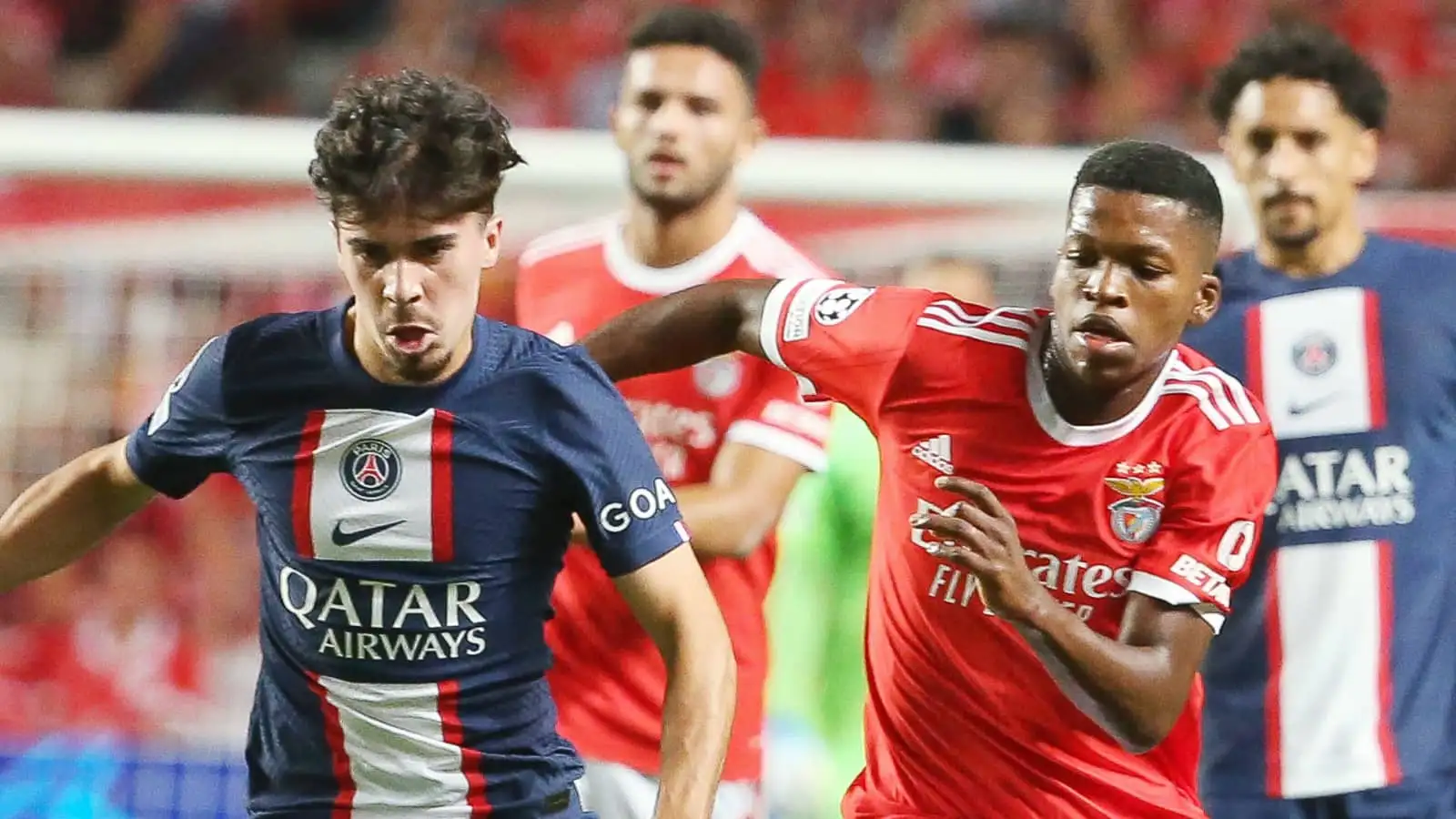 Liverpool are part of a three-club race to sign a player dubbed as the 'next Enzo Fernandez', an in-form Arsenal ace could receive offers from half of the Premier League, while Sunday's Transfer Gossip reveals how a Bundesliga star wants to join Wolves.
LIVERPOOL IN CHASE FOR BENFICA MAN
 Liverpool have been told they are one of three clubs who could sign Benfica's Florentino Luis, a player described as the 'next Enzo Fernandez'.
Jurgen Klopp has been able to rely on Fabinho as his main defensive midfielder for several years now. And the 29-year-old has done an excellent job, playing an important role in Liverpool's Premier League, Champions League and FA Cup success since moving to Anfield in 2018.
However, Fabinho has looked a yard off the pace this term. And his slightly disappointing form has led to rumours of a replacement joining Liverpool as part of their midfield revamp.
Jude Bellingham is Klopp's main midfield target, while the club are also keeping tabs on Chelsea star Mason Mount. But talkSPORT have revealed how Florentino could also be captured by Liverpool to succeed from Fabinho.
He is a 23-year-old midfielder who has won 12 caps for Portugal U21s and is hoping to make his senior debut later this year. Florentino is one of Benfica's most reliable players. He has put in some sturdy performances during his 38 appearances across all competitions this term.
One of the traits Klopp will like most is the fact Florentino rarely picks up injuries. He has not missed a single Benfica game this season. Klopp has been given headaches by Naby Keita and Alex Oxlade-Chamberlain often being out injured, so he would love to be able to rely on a player like Florentino going forward.
Every coach would want Liverpool target, says observer
Joao Tralhao, who played a big role in Florentino's development at Benfica, has urged Liverpool, Real Madrid and Barcelona to pursue the Primeira Liga ace. And talkSPORT, who pick up the quotes, explain how Florentino is the 'next Enzo Fernandez'.
"He is the kind of player every coach would like to have in their squad," Tralhao said during an interview with Goal.
"He's an amazing boy, a hard worker, calm, professional, always prepared to listen and he is a proper team player. He doesn't think only of himself.
"Technically speaking, it's not easy to find a midfielder with the defensive qualities he has. I used to joke with him and say that he saw the game two seconds before everyone else.
"It's amazing the amount of interceptions he makes, the way he can be in the right position all the time. He is always in the right space to regain the ball and he has improved so much in terms of duels, using his body, protecting the ball in contact and so on.
"He has the talent and quality to play in elite teams. Remember when Real Madrid had the Galacticos? They needed someone to balance the team, and [Claude] Makelele was so important. More recently, Casemiro did that job, allowing [Cristiano] Ronaldo, [Luka] Modric and [Karim] Benzema to attack. Florentino has those capabilities. He's having an amazing season under Roger Schmidt.
"He can play anywhere, Real Madrid, Barcelona, Liverpool, anywhere. He would have no problem adapting."
ARSENAL ATTACKER BECOMES WIDELY COURTED
As many as 10 Premier League sides could make bids for Folarin Balogun in the summer transfer window, according to a report.
Balogun left the Emirates on loan in August 2022 to join French club Stade Reims. Arsenal were hoping he might pick up more game time in Ligue 1.
And the striker has excelled under the guidance of English-Belgian coach Will Still. So far this campaign his record stands at 16 goals and two assists in 25 appearances.
In fact, 15 of those strikes have come in the French top flight and no player has bagged more – not even Kylian Mbappe, Neymar or Lionel Messi.
Arsenal have not made a final decision on where Balogun will play next season. Presumably, though, Mikel Arteta will give him first-team opportunities at the Emirates after such an impressive spell in France.
Despite this, Arsenal will receive plenty of offers for the 21-year-old. Football Insider claim 'half the Premier League' may send Arsenal proposals as they look to improve their respective attacks with Balogun.
There is little indication Arsenal will let Balogun go permanently. But clearly this will depend on the money that is thrown at them by other English teams.
Arsenal apparently believe Balogun has the potential to be worth over £50m in the future. So it would take a huge bid for them to sell him this summer.
The England U21 international will believe he can rival Gabriel Jesus for a starting spot at Arsenal, should he return to north London. Eddie Nketiah is currently deputising for Jesus after his knee surgery, and he has done well.
However, Balogun will expect to be ahead of Nketiah in the pecking order after such a sublime year in France.
Arsenal are facing a big decision over Balogun in the summer. Although, it is hard to see them letting him leave when he has become such a promising young player.
STUTTGART PLAYER MAKES WOLVES DESIRE KNOWN
Stuttgart left-back Borna Sosa has explained how he would like to play alongside Wolves striker Sasa Kalajdzic in the Premier League.
Wolves spent an initial £15.5m to sign Kalajdzic from Stuttgart in August 2022. However, he suffered an ACL injury on his debut and has been out of action ever since.
It is a bitter blow for the Austrian, who would have been hoping to make an impact in the Prem after bagging 24 goals in 60 matches for Stuttgart.
Kalajdzic is hoping to play again before the season ends. And he could be joined by former Stuttgart team-mate Sosa over the summer.
During an interview with German outlet Bild, the Croatia World Cup man has expressed his desire of playing with Kalajdzic in England. This means he is essentially asking for Wolves to land him.
"Like many players, I dream of playing in the Premier League one day," Sosa declared.
"It's the strongest league in the world. There are not only the big six top clubs, but the other teams are also strong. And if I could play with Sasa in a team there, then all the better.
"Every player sets goals in his career and I want to play for a team that is represented in Europe. But the move to Leverkusen didn't work out and that's the end of the matter.
"I feel very comfortable at VfB, I've been here for almost five years now. I want to help achieve our goals. The fact that I stayed in Stuttgart is not a problem for me."
Sosa's Stuttgart contract runs until June 2025, while he is valued at €20m (£17.8m) by transfermarkt.